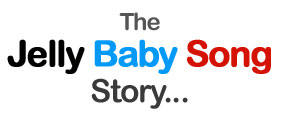 "Sing sugar sugar!" - and they did!

Australian singer and songwriter Alison Hams wanted to combine her professional love of music and kids with her personal interest in helping people with Type 1 Diabetes - and so the "Jelly Baby Song" was born!

Written late in 2012 by Alison, recorded with her young music students - and produced by husband Mark Tempany (himself a Type 1 Diabetic) - "Jelly Baby Song" is a toe-tapping, sing-a-long tune set to take on the world to raise awareness & funds for JDRF (Juvenile Diabetes Research Foundation).

From it's launch on 1st May 2013 in-line with JDRF Australia's national "Jelly Baby Month" campaign - 100% of all sales of "Jelly Baby Song" have flowed straight back to JDRF and their quest to cure Type 1 Diabetes!

Alison and Mark - apart from their long and successful independent recording careers - also run "Stormfront Music Tutoring" in Whyalla, South Australia "where the Outback meets the sea!"

With well over 100 music students each week Stormfront has a proud history of fostering the musical dreams of young people - and of further encouraging students to "give back" to their local community, and the world in general.

Recorded at Stormfront Recording's studio, and mastered by Sage Audio in Nashville, Tennessee - "Jelly Baby Song" is set to take the world by storm as an on-going Project over the next 12 months!

If everyone, everywhere simply buys a copy of "Jelly Baby Song" - just imagine what a difference we will make towards curing Type 1 Diabetes!